It's super easy! To understand how the BalancingMeds™ Analysis works…
Just a Couple of Simple Steps
Provide a list of your prescription and over-the-counter medications. Only list your medications if taken 5 or more days per week. This list must be accurate and include correct spelling.
Your analysis will only be as accurate as the list of medications you submit.
Failing to mention one drug, even an over-the-counter medication like Ibuprofen, can change the entire dynamics of your analysis and alter the results of your personalized report.
The cost of a BalancingMeds™ Analyses is based on the number of prescriptions and over-the-counter medications you are currently taking. Payment is made directly to BalancingMeds LLC.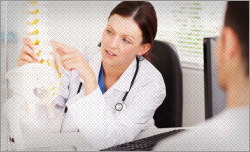 Your Customized BalancingMeds™ Analysis
After BalancingMeds™ receives your analysis request, you will receive your personalized BalancingMeds™ Analysis report within 5-7 business days.

This report will educate you in these areas:
Vital nutrients being robbed from your body, and what nutritional supplements may be needed to support your health.
If your medications can be contributing to unexplained weight gain (fat cells release chemicals that can increase pain).
Never change dosage or discontinue your medication without consulting your prescribing physician.